About LED post edit column
[time]2012-08-22 11:52:13 [source]
We should all be for the protection of the environment, in order to provide a better living environment for the next generation to contribute to a force. Use energy-efficient lighting products, we can reduce the carbon dioxide that cause global warming emissions.
So far, environmental protection and energy saving policies and measures have become civilized life trends that we are familiar with, however, we know their real in-depth understanding? Whether in our daily work and life really do it? Not or a listen to concentrate on, and after talking about happy, do not mind it do? Energy saving and environmental protection can not we have more than chanting slogans, we need real from real life to improve, to practice, to start from everything around.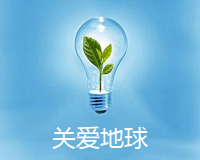 Good living and working environment for the survival of our human condition, and to protect the environment is to protect our own. Faced with the reality of the Earth's ecological environment is deteriorating, and the growing shortage of resources, we should clearly recognize that to: save the planet, environmental protection, energy conservation, is our common responsibility. Home energy conservation and environmental protection, and our lives, and very easy to do the work of energy conservation and environmental protection of the family, not only saves resources, but also save some expenses for a family, killing two birds with one stone.
1 each kilowatt savings, eliminate appliances pollution. Incandescent lamp into a fourth-generation green LED light source, the same brightness, the power consumption is only tenth of incandescent, but life is 50 times that of incandescent lamps.
With rapid economic growth and the growing population, efforts to alleviate the problem of insufficient resources, improve the ecological environment and achieve sustainable development, has become a very urgent task. China is one of the world's 12 water-poor countries, freshwater resources is less than 1/4 of the world's per capita amount of water, so water conservation is imminent. According to statistics, the resident population of a city of 17 million, there are more than 600 million households in terms of If saving 1 kWh of electricity per month each year, the city could save 60 million degrees, the equivalent of a small power plant generating capacity; saving a ton of water per month, the city could be saving 60 million tons, the equivalent of a 80-million city life year of total water use.
Landscape lighting uses advanced energy efficient lighting technologies (such as LED). Landscape lighting often need to issue a variety of colors, many parts of the general lighting plus filters way to achieve the desired effect, which undoubtedly greatly reduce the luminous efficiency, state-of-the-art lighting lighting such as a light emitting diode (LED) can be issued the required single light color, and the lifetime is several tens of times of the ordinary incandescent
Conserve electricity fun in green living
To promote energy conservation and environmental protection, and fun in green living is becoming our life benchmark. Green living as a modern way of life, including all aspects of daily life, including: conserving resources, reducing pollution; green consumption, environmental protection optional; reuse, multiple use; separation and recovery and recycling; protecting nature and all things coexist . We should start from the self, from the side and doing, so that every word and deed, every move in line with the principle of green savings, through its own actions to achieve the protection of the ecological environment.
Green living, saving electricity, can you do it?
* Guaranteed effective illumination and brightness, the choice of efficient lamps.
* TV's brightness and energy-consuming, the TV brightness adjustment smaller, not only energy-saving but also make less eye fatigue.
* Dispenser can be turned off when not in power, so not only saving duplicate boil water and avoid drinking.
* Mobile charging, should ensure that the battery is full then use. The phone is fully charged should unplug it to avoid unnecessary heat loss.
* Computer screen, a black screen standby does not mean that the greatest degree of energy conservation, temporarily without a computer, you can shorten the time setting display goes to sleep mode; When complete without a computer, unplug the cord. Insisted on doing this, can save at least 1 kWh per day, but also appropriate to extend the life of the computer and monitor.